Cash Prizes For The Fastest To The Top
A 3.5 Mile Climb On A Surface of Glass.
THERE IS NO REASON


TO NOT ACCEPT THE CHALLENGE
This race is open to all ages and skill levels. From a kids's race to 7 age brackets, there's competition for every level.
BUILDING


COORDINATION
& CHARACTER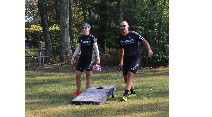 More than just a bicycle race, the King's Gap Time Trial is designed to be a family friendly with activities for everyone. We have a dream of everyone enjoying the day and cheering on their favorite racer.